NEW Fit & Firm Beginner's 6 Week Program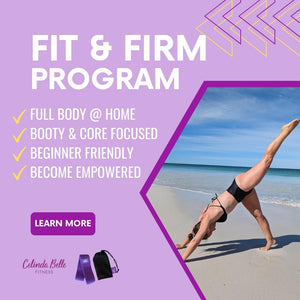 If you've been itching for some workout inspiration, accountability or if you're just starting out, my Fit & Firm Program designed for beginners is launching in 2 weeks! Not only will this program include a full body approach (yes booty & core will be prioritized!) but you'll also receive a Medium Resistance Fit Booty Body Band to use alongside your workouts!
Why this program?
I wanted to create a program that beginner's could learn and master the foundations with and also hold them accountable! My app where you'll get access to the workouts will be able to offer you this advantage and will be your one stop source over the 6 weeks!
Starting your fitness journey can be overwhelming and this will save you from that!
What's included:
Each week you'll have 3 Strength workouts and 1 optional recovery/light stretch workout along with weekly motivational messages to keep you going!
The Medium Fit Booty Band will be dispatched from Perth, WA within 48 hours so please note standard shipping times applies Aus wide (ex from Perth you can expect delivery within a few days, Eastern states may take up to a week or a little bit more if Aus post is going through a busy period).
Often times women think they need to workout everyday when that's not the case! By having this program to follow, you'll learn how you can workout only a few times a week to get the results you're looking for, all while developing better habits to keep you on track for the long term.
Do I have to wait for my booty band to arrive before I start?
No you can start your workout right away! You may only need the booty band after the 1st week depending on your fitness level and after you've mastered the breakdown of the key movements in the program.
What type of exercises are in the program?
The program has a variety of bodyweight pilates & strength components and exercises. While it would take too long to write down every exercise, you can be assured you will be doing variations and exercises like: squats, lunges, glute bridges, hip thrusts, rows, push ups. If you worry about performing any of the movements in the program - do not worry! There will be modifications and the best thing you can do is try your best. Over time you will get stronger!
How will I get access to the program?
You will be emailed a set-up link to download the app where you'll receive access to all the programs. Each week you'll be able to preview the workouts planned and can choose to do them on the specified day. If you can't do a specific workout on the scheduled day, don't worry, you can always go back and catch up later in the week.
How long do I have access to the app after the program ends?
You'll have an additional 2 weeks to use the app and go back on any workouts in case you need to make up any missed workouts.
Sigh up for the pre-sale today and SAVE, click here!