3 Different Booty Band Hip Abduction Exercises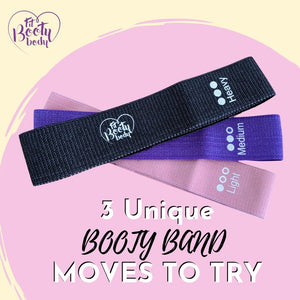 Whether you're limited to certain equipment, your training from home or if you simply want to mix up your routine to keep things fun, adding in new exercise variations can help!
Additionally, sometimes stepping away from the exercises we normally do, can make us get stronger in other areas or when we go back to an old favourite.
So today I'm sharing with you 3 different booty band exercises to try that you may have forgotten about, haven't tried or have had on the to do one day list!
There's no better time than now to try something new right!
Here are 3 different booty band moves you can try with a video below and tips to follow:
1. Banded Reverse Plank Abductions
While performing this move be sure to keep your hips up high and tucked under. If you are arching your lower back, you're missing out. The whole benefit of this movement isn't just the abduction/glute medius from firing, but also having the glute max engaged/squeezed to help keep your body up and stabilising.
I recommend the purple medium resistance Fit Booty Body Band for this move.
2. Banded Hinged Forward Seated Abductions
A lot of the time when performing steated abductions, people commonly tend to sit upright. However, adding a bit of a hinge forward to the seated postion can really benefit your glutes. I recommend the purple medium resistance Fit Booty Body Band for this move. Also try holding/pausing for 2-3 seconds as you open your knees. The extra bit of control and focus will help heat things up!
Medium too easy? Go Heavy! 
Top tip: Don't forget to exhale as you push the band open (exhale for exertion). It will help you push through when the going gets tough!
3. Banded Squats + Abduction
I recommend the pink light resistance Fit Booty Body Band for this move. After your strength and coordination improves, you can progress to purple medium resistance. 
Shop Fit Booty Body Bands here.
Here is a quick preview of them in action below.
Happy training!